Make a Lasting Eco-Friendly Impression at Your Virtual Events!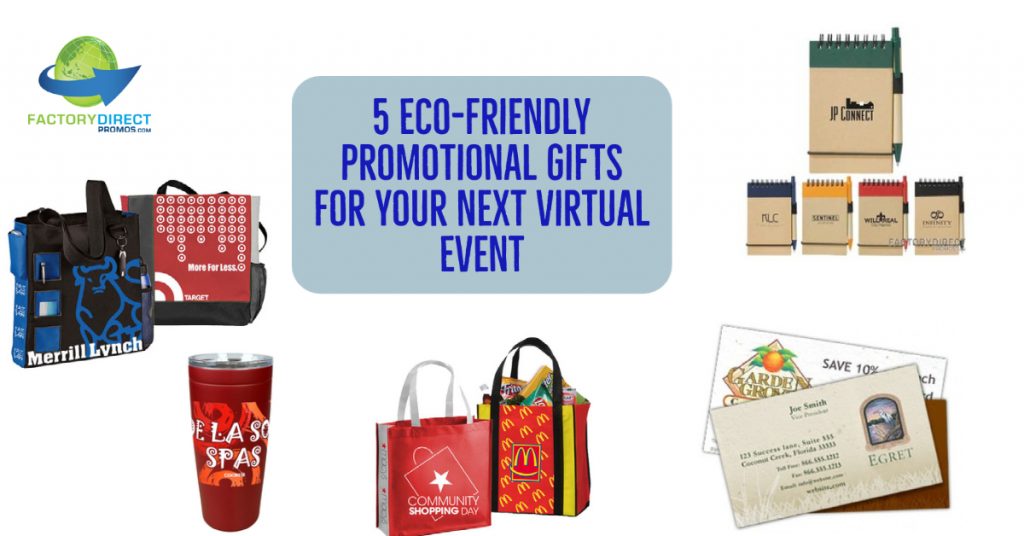 In-person events and promotional gifts are slowly coming back, but virtual events are unlikely to disappear anytime soon. Virtual events make it possible to stay connected even when we can't all get together, which has been tremendous during the last year, and they are an excellent opportunity to grow your brand.
Our daughter brand, Factory Direct Promos, recently outlined five eco-friendly promotional gifts that can make a real connection when attending a virtual event. Find out why eco-friendly promotional products matter and what they can do for your brand at your next virtual event.
Reduced Environmental Impact
Several factors determine the eco-friendliness of a promotional product. Reusable items are considered eco-friendly because they reduce the need for single-use items, like disposable shopping bags or single-use cups or straws.
Items made from recycled or sustainable content are also considered eco-friendly. Items made from repurposed materials or natural and biodegradable fabrics can be handled and disposed of responsibly. Eco-friendly items do not damage the environment.
Selecting eco-friendly promotional products is a smart choice for brands that want to stick to their environmental goals. It is also a good choice for brands that have environmentally minded customers.
Consistency and giving your customers what they want certainly matters. Still, studies have shown that customers are more likely to do business with a brand that has given them an eco-friendly promotional item.
Stay Connected
Virtual events are a great way to connect with people, but they don't wholly replace in-person events. Providing giveaways before an event creates an opportunity to engage with customers and prospects before the event even gets underway.
Sending attendees custom promotional items ahead of the event can help get your guests excited and create a connection. A tangible item is a way for prospective customers to relate to and engage with your brand not only during the virtual event but long after it has ended.
Choose the Right Item
There are so many different items to choose from, so knowing where to start can be tricky.
When you understand your options, it's so much easier to select the correct item for your brand. You want to choose something that can be customized to represent your brand accurately and will be of interest to your customers. Promotional items are only effective if your customers use them, so the correct item makes all the difference.
Some of the available items include:
Reusable Bags
Trade Show Totes
Seed Paper Items
Reusable Drinkware
Eco Promo Items
Plan Your Next Virtual Takeaway
Eco-friendly promotional gifts can create memories that will stay with your customers and cause them to think about your brand from time to time. Make your brand stand out at your next virtual event with the perfect item.
Get in touch if you have any questions, or check out this post from Factory Direct Promos, our daughter brand, to learn more about the different eco-friendly promotional gifts available.