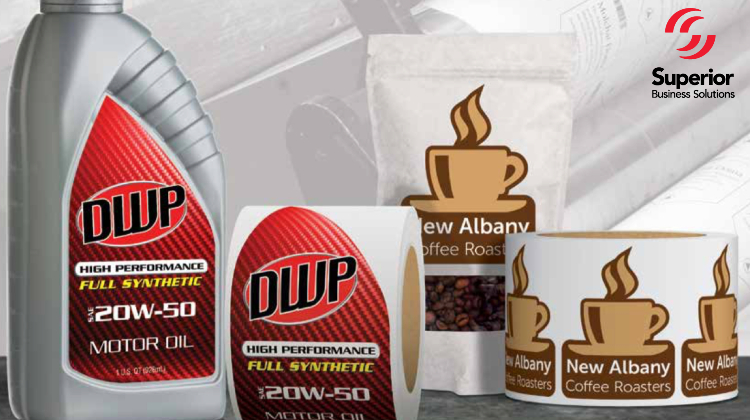 Labels make it easy to stay organized and relay really useful and helpful information, but labels are only effective if they stay where they are placed.
High-quality custom labels can make all of the difference, especially if you are looking at how to keep labels from peeling.
Tim English, of our parent brand, Superior Business Solutions explained in a recent post why choosing the right custom labels matters and what you should consider before ordering your labels.
Effectiveness of Labels
Adhesive labels make it easy to label products, so whether you need to communicate information to your staff, or buyers, or customers, labels are the way to do it.
Labels can identify a product or SKU number, quantity, pricing, ingredients, ISO certification, and any other relevant information.
Labels provide at-a-glance information or when used to affix QR or barcodes, can prove an invaluable, real-time tracking solution.
Understanding the Risks
Labels can fail for a variety of reasons.
Everything from the conditions to the type and age of the adhesive play a role in the effectiveness of the label. If a label fails, either because it peels or falls off, or the printing is indecipherable, this can be a huge problem. Buyers may not accept the item and tracking may become impossible.
Poor quality labels also reflect negatively on both the product and the brand. If a label falls off a product it does not instill confidence in the brand or the product itself. So not only is the usefulness of the label lost, but it can also become a bigger problem for the business.
Experience You Can Trust
Superior Business Solutions has been helping customers for almost a century. This is proven experience and a testament to the quality of their work. Superior has the experience and knowledge to avoid common pitfalls or problems.
Understanding the unique needs of each client and each job enables Superior to find the ideal solution.
Understanding the pros and cons of different materials, adhesives, and application techniques enables Superior to zero in on the right combination for your situation.
Customization Opportunities
Labels need to stay in place, but they also need to look good.
An eye-catching label will get the job done while providing a professional look and a memorable experience.
Superior has built solid and valuable relationships with a large national network of suppliers, so if you have a specific size, shape, material, or finish in mind, they can help make it happen.
Proven Record
Superior Business Solutions has a lot of credentials, but one that is well deserved and we are all proud of is their five consecutive Best of Print and Digital awards. This recognition speaks to their commitment to their customers and the quality of their work.
If you need high-quality labels that stay put while looking amazing, then reach out to the team at Superior and find out how they can help you create custom labels that are unique and effective.