An Easy Solution to Growing Your Brand and Going Green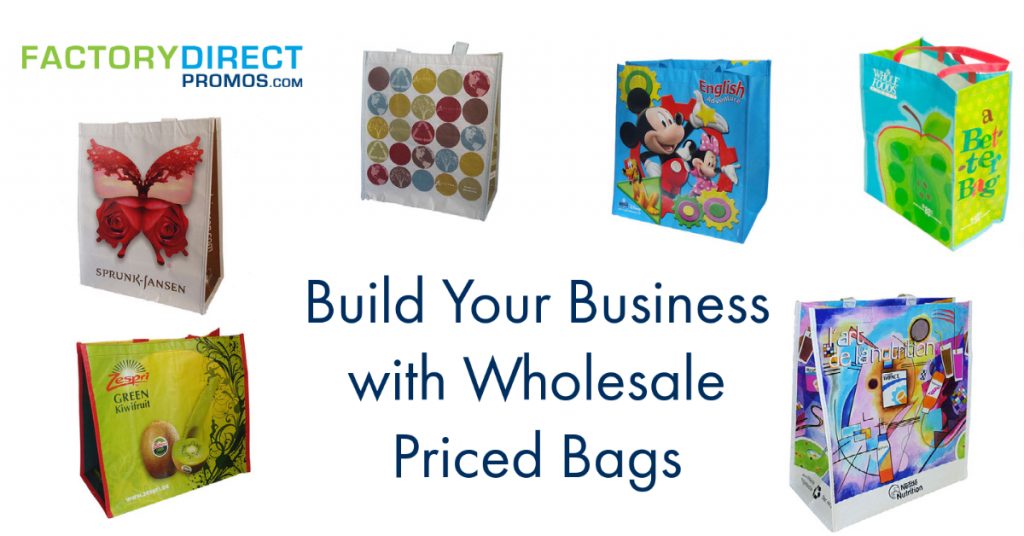 You have a lot of choices when it comes to marketing and promoting your business and one very effective choice is bags wholesale priced.
Our daughter brand, Factory Direct Promos, has been helping their customers create one-of-a-kind, custom reusable bags for over a decade. And these bags are wholesale priced and built to last.
Find out how you can easily promote your business with bags wholesale priced and designed to last!
Constant Reminder
Promotional marketing is so effective because it is not obtrusive.
As single-use plastic bag bans become more common, there is more of a need than ever before for reusable shopping bags.
When your customers use your branded bags, they will also be reminded of your business, but they will also spread your message to a wider audience.
Reusable bags work like signs your customers can carry promoting and endorsing your business.
Good for the Planet
Reusable bags are good for the planet because they are made from recycled or sustainable content. These materials are eco-friendly, but these bags also eliminate the use of more damaging, single-use bags.
Disposable plastic bags can end up in landfills or as litter and be very damaging to the planet, animals, and even the food chain.
Reusable bags are an easy solution to address plastic litter and pollution.
Certified Reusable Bags
Many of the bags offered by Factory Direct Promos are certified reusable. This means the bag designs are approved by CalRecycle, a leading environmental agency.
The bags are built to last to ensure they truly are reusable and will have a positive impact on the environment. This solid construction also provides peace of mind. Reusable bags are an investment, and when you invest in certified reusable bags you know you are getting a quality product that will last.
Direct From the Factory
As the name implies, our daughter brand, Factory Direct Promos, works directly with their factory. This not only saves time and allows for a greater level of customization, but it also eliminates middlemen and those additional markups.
Purchasing bags wholesale priced is good for your budget, but it also provides a great return on investment, or ROI.
When you purchase certified reusable bags at wholesale pricing, you know you are making the most of your budget and that the bags will promote your brand for a long time to come.
Create Your Own Custom Reusable Bags
There are a wide range of reusable bags available and many are certified reusable. You can easily find the bag that will best fit your customer's wants and needs which means the bags will get lots of use, and promote your brand the entire time.
Factory Direct Promos can help you create the best bags wholesale priced for your budget.
Learn more about the bags and the process and request a sample or a quote so you can start growing your brand in an eco-friendly, budget-friendly, and effective manner right away!