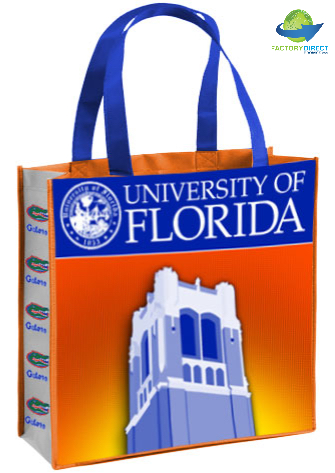 Here's How Teachers and Students Can Get a Great Deal on Customized Bags
Education is so very important and we fully support any way we can help teachers and students. Students are our future and the professionals who teach them give so much of themselves in order to help their students excel.
We were very excited to learn about a great discount for teacher and student organizations that is being offered by our daughter brand, Factory Direct Promos, and we wanted to share this with you.
Whether you want to share your school pride and spirit or help spread the word about your organization, this deal is a great way to create some custom gear to do just that.
Find out why you should consider creating reusable bags for your school organization and just how great of a deal you can land on custom bags.
Creating a Connection
Custom reusable bags are useful, but they can also help foster school spirit and a sense of connection. Durable bags can be used to carry items needed for school or a club back and forth and they serve a very useful purpose.
When these bags are customized they help unit an organization whether it be a club, team, or other group. Creating a sense of unity is always worthwhile and can help bring people together. Unity is so much more important now. As schools are working to keep everyone safe and adhering to new and changing guidelines, in addition to teaching and taking care of their regular responsibilities, a sense of unity can really make a difference.
How to Customize the Look
You select the style of bag, the color, send us your artwork and we take care of the rest. You can choose a bag in your school's colors and include a logo or other artwork that represents your organization.
If you want to take your customization to the next level, then that is possible, too. You can alter the design of your custom bag, add pockets, zippers, or anything else that will help the bag work for your group. The more features and function you build into your custom bag the better it will serve your members and the more use it will receive.
Discount for School Groups
Factory Direct Promos is offering next column pricing for teacher and student organizations. Their pricing works by lowering the unit price as the overall quantity increases.
Next column pricing means you can secure a lower unit price that would normally be reserved for ordering a larger quantity.
Essentially, you can order the amount of custom reusable bags you need and pay a lower price.
Design Your Custom Reusable Bag
Factory Direct Promos has been creating custom reusable bags for over a decade and they have fine-tuned the process to save time and money. They are ISO certified and they are committed to their customer and the environment.
Learn more about this special offer on customized reusable bags for teachers and students, the benefits of certified reusable bags, and the different ways to order from Factory Direct Promos.