April Fools! 5 Myths About Print Marketing Busted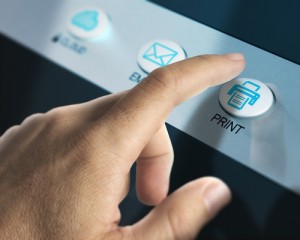 Paper has been an important part of communication and culture across the world for a long time, and it's still an indispensable resource in today's society. With all the recent talk about a 'paperless office,' it's easy to think that print marketing and communication is out of date, archaic…a waste of time and resources, not to mention unsustainable. 
Well, think again. Here are 5 myths about print marketing busted. 
Myth 1: Paper Is Wasteful
Print is actually highly sustainable with today's recycling technologies that are growing in popularity. Recycling is a closed loop against wastefulness, and as long as awareness continues to be increased and more people take the time to recycle, that sustainability will continue to thrive. As we continue to limit the elimination of print and paper products in landfills, paper will only continue to become more sustainable than ever.
Myth 2: Print Marketing Is Obsolete 
Just the opposite, actually. Studies show that adults aged 18 to 34 are far more responsive to direct mail and print than many businesses suspect. Reason being, we're all beginning to mentally block out many forms of online advertising. We have to. There's just too much of it out there, so print marketing becomes an effective way to get your audience's attention.
Myth 3: Print Is More Expensive Than Digital
This is a broad generalization that you'll hear all the time. The fact is, there are many, many ways to use print in a cost effective way. From flyers to thank you notes, print advertising can be as inexpensive as you want it to be, and it has the potential to go a lot further and be far more effective just because it's not as ephemeral.
Myth 4: Electronic Communication Is More Effective
Electronic communication is also easily drowned out by constant Internet noise. The fact is that companies have to use a combination of advertising and communicating methods to rise above the constant commotion. The most effective option is a well-rounded one. Think of it as print plus digital, not print vs. digital.
Myth 5: The Paperless Office Is Ideal 
This is an ideal that people have gradually come to realize is both impossible and unhelpful. Brought into popularity by the idea that paper is bad for the environment, many companies have spent tons of time and money in an effort to eradicate paper from the office. But a lot of people don't realize the impact that electricity or e-media has on the environment, and there are times when you just need a printed and tangible surface. Just recycle it! 
If you have questions about print or marketing and how those two words can work seamlessly together, our Superior Business Solutions sales reps are print experts. So feel free to contact us HERE or call us at 800.968.1416.