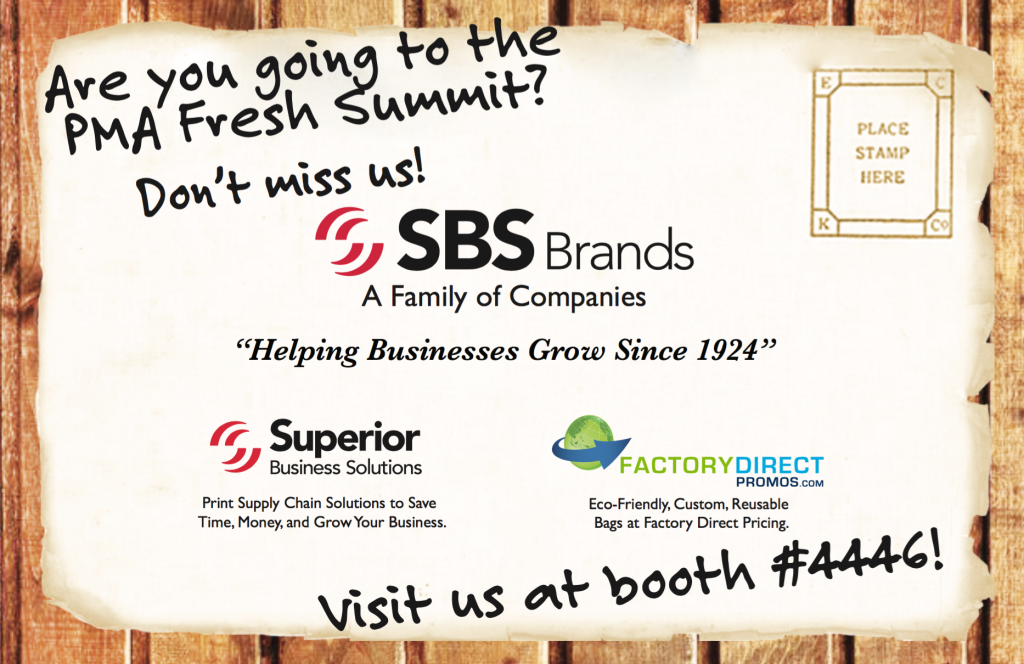 Make Booth #4446 Your First Stop at PMA Fresh Summit Expo 2016 in Orlando! 
Enter for a chance to win either a set of Bose® QuietComfort® headphones or 50% off of a new custom overseas reusable bag order, pick up what will become your most memorable trade show bag, grab your blooming gift, have some fun sharing your trip with your friends, family and co-workers back home on social media with our selfie frames and props then find out how to save time, money and grow sales by meeting our SBS Brands' Team in booth #4446!
Heading to PMA Fresh Summit Expo and Looking for Solutions to Increase Sales?  
The SBS Brands' team is at the PMA Fresh Summit Expo to get to know you, your business and the challenges you face in your workday promoting your brand and increasing sales…and we will be offering up solutions to help you save time in your workday and money in your budget, all while increasing profits.
*PMA FRESH SUMMIT EXPO TRADE SHOW TIP #1: Download the Fresh Summit Expo App for efficiency and a personalized show experience.

What Do We Do?
We are a new name for a very experienced group of companies, and we have been helping businesses like yours grow for almost 100 years. We were founded on family in 1924 for one reason…to make time in the workday to increase sales.
What started out as a company selling sales order books in West Michigan, is now a diverse group of companies and technology brands.
Founded in 1924 by my grandfather, Robert English, as Superior Business Forms, we sold customized sales order books that made a sales person's day more efficient. At the time, getting 2 copies from a single writing was considered an accomplishment and made our clients' workdays more efficient.
What exactly do we do? We help our clients and customers communicate and get their message to the market across multiple formats and across multiple mediums, utilizing things like printed IRC labels to increase sales and PTI labels with adhesives formulated for your environment and substrates, eco-friendly reusable bags for marketing and retail use at factory direct pricing, e-procurement technologies to increase efficiencies and much more.
We are a client-centric, consultative organization with global partners and extensive capabilities. Because of our breadth of experience and agile approach to business, we are able to offer solutions to our clients that very few organizations can.
*PMA FRESH SUMMIT EXPO TRADE SHOW TIP #2: If you are looking for a place to meet friends, build relationships with prospects or co-workers while in Orlando, I asked our CMO Shane who lives in Orlando, for some nearby, homegrown suggestions.
"Head to Sand Lake Drive just a few minutes away from the Orange County Convention Center to Rocco's Tacos, if you are looking for a wild time. If you are looking for healthy choices, nice dining and great service, check out Seasons 52 by Darden Restaurants. Finally, the last tip for a great dinner, is Fresco Cucina Italiana for some of the best Italian food of your life. Call ahead for reservations for big parties." ~ Shane Shirley, SBS Brands' CMO
What Can We Do for You and Your Business at the PMA Show and Beyond? 
We are highlighting two of our brands' at the PMA Fresh Summit 2016 Show: Factory Direct Promos' which offers factory direct pricing on custom reusable bags and our founding brand, Superior Business Solutions will be highlighting PTI and IRC label solutions to grow your sales and save time and money.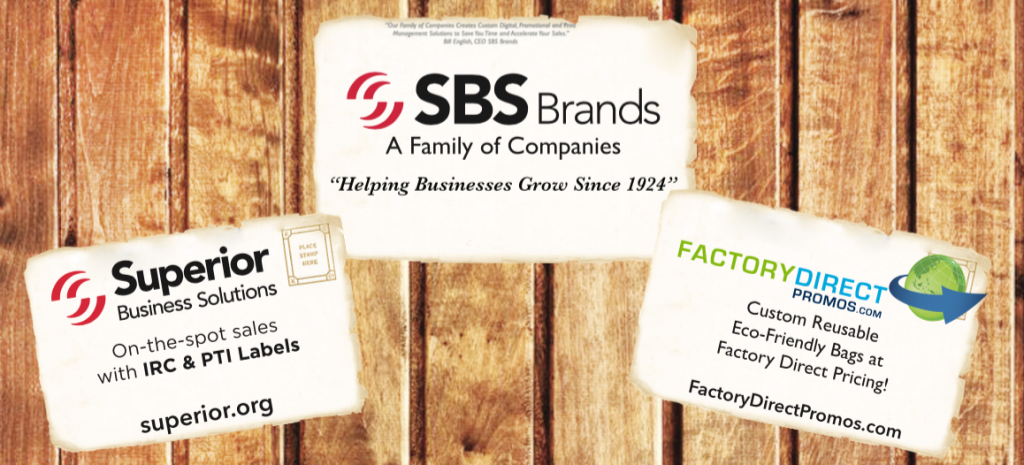 Spur On the Spot Sales with IRC Labels 
Secret weapon IRC Labels, also known as Instant Redeemable Coupons, spur on-the-spot sales!
Simply put, Instant Redeemable Coupons or IRC labels are labels affixed to products and/or printed pieces, that customers can just peel off to grab immediate savings or take advantage of some other promotional opportunity.
Properly designed, they visually "jump off" the regular packaging to capture attention from store customers or from readers leafing through a magazine or catalog.
Customers get the positive vibe and instant gratification of removing them to get unexpected savings or some other incentive that they'll be eager to take advantage of. And when they do, it's great for your sales!
*PMA FRESH SUMMIT EXPO TRADE SHOW TIP #3: To make the best use of your time, skip overly crowded booths (plan to come at end of day when traffic is slower) and avoid conversations with vendors you have no interest in. 
The vision of the Produce Traceability Initiative, is the supply chain-wide adoption of electronic traceability. PTI compliance is a necessary part of doing business if you want to grow your sales. A big part art of the implementation process is finding the proper PTI labels. There are plenty of providers out there to choose from, but the real difficulty sometimes is in finding a PTI label supply chain-wide solution that can save time, money and stick where you need it to.
Superior Business Solutions specializes in working with customers that need to ensure their PTI labels will be formulated with adhesives for their specific environment and substrates, while also improving upon and increasing efficiencies in the print label supply chain. Anything less is a waste of time and money.
*PMA FRESH SUMMIT EXPO TRADE SHOW TIP #4: Stop by Booth #4446 for a consult with Tim English, our SBS Brand's V.P., (and my brother) or ask to speak with sales rep Bob Bunney or Jon Cummings to find out how to increase sales with PTI and IRC labels.
Factory Direct Pricing on Custom Reusable Bags and Totes 
Our daughter brand, Factory Direct Promos, is an over 20 year leader in eco–friendly promotional products, offering factory direct pricing on custom reusable bags for retail and marketing in quantities of 250 to the millions.
Reusable bags are an ideal, eco-friendly alternative to single use plastic bags. Our complete product line of eco-friendly reusable and recycled bags and totes can be customized with your identity, branding and marketing messaging, while also making a statement about your commitment to environmental sustainability and reducing your company's carbon footprint.
*PMA FRESH SUMMIT EXPO TRADE SHOW TIP #5: Stop by Booth #4446 and pick up your free Fresh Summit bag and then talk with Beth Wilkerson, Factory Direct Promos' Operations Manager, Brittney Dudeck, our sales rep, or Bill English, our SBS Brands' CEO and find out how easy it is to buy custom reusable bags at wholesale pricing – including reusable grocery bags, shopping bags, wine totes, trade show bags, promotional bags and more, manufacturer direct and save.