Print Marketing Is Thriving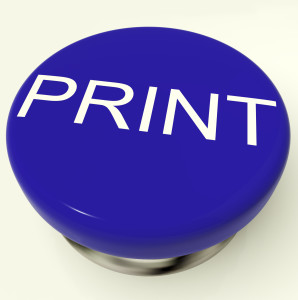 With the recent wave of online marketing, many businesses in both B2B and B2C industries have written off print marketing as a dead or dying method of marking. But it is exactly this flood of online marketing that is allowing print to continue to thrive. Print will continue to be relevant and effective because of the current content overload in an online setting. Just as email marketing will never replace face-to-face relationships, online marketing – while still an important piece of the marketing puzzle – can't entirely replace the tangibility and permanence of print forms of communication.
Printed forms of marketing are still used heavily, and they are making a difference. Manuals, Catalogs, Reports, Newsletters, and Brochures continue to have a positive effect on the marketability of brands. There are also ways in which increased technologies actually improve the importance of print marketing. As phones and tablets grow in circulation and continue to develop, QR codes and NFC (near-field communication) also grow in relevancy. All this technology amounts to just more ways for potential customers to find your brand outside of the virtual world.
Introducing GoToPrint: The Sales Enablement Service
One of the major reasons why online content is so valuable is that it doesn't cost the money to print, it's easy to rely on as far as scheduling, and it's virtually instantaneous. And since the advantages to print can't be ignored, Superior Business Solutions has a solution that will make your  print orders reach your destination in hours. It's easy and it's fast, and it's guaranteed to make print an accessible option for your marketing plan.
It's called GoToPrint – a reliable sales enablement service that lets you create, customize, print, manage, and distribute sales and marketing documents. GoToPrint offers the flexibility and responsiveness to handle short lead times and last minute changes that competitive sales environments often demand.
When everyone else is focused on online marking, you can spread out your campaign across more than one dimension and get your brand into the physical hands of potential customers faster than ever. For more information, contact us. Superior Business Solutions would love to be a part of your future!