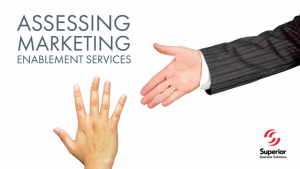 How to Choose Marketing Enablement Services That Work For Your Business
After almost 100 years in business, we understand that generating leads and closing sales can be challenging. But with the right strategy, everything comes together and the process is more efficient and simplified. Such a strategy is unique to each individual business. The strategy, known as marketing enablement, can close the gap between your company and prospects.
In a very informative seven-part series, Tim English, VP of Superior Business Solutions, explains how to choose marketing enablement services for your business.
Look for Custom Marketing Enablement Solutions
The marketing solutions that benefit one business may be ineffective for another. There is no one-size-fits-all approach to marketing and lead generation. Finding the right services that complement your business are necessary to reach prospects. The varied marketing enablement services offered by Superior Business Solutions can be tailored to fit your business and deliver the results necessary to increase sales.
Tools Working In Tandem
An effective marketing enablement strategy uses a variety of tools that are synced to work together. From proLEAD lead generation, QR codes, SMS text messaging, personalized URLs, email marketing technologies and variable print technologies all of your outreach needs to be calibrated to complement the greater goal.
Utilizing multiple tools ensures your outreach reaches your prospects in one form or another to effectively communicate your message and eliminate the possibility of a prospect falling through the cracks. In other instances the multi tool approach works as a series of reminders to keep a prospect engaged and thinking about the benefits they stand to gain from working with your company.
Closing the Deal
Communicating is a big part of marketing enablement services. Prospects need to understand the products or services your company offers in able to make informed purchasing decisions. However, an effective marketing enablement service needs to effectively close the deal and help a prospect make the transition to client. The tools available from Superior help guide a prospect through these steps.
Follow the Series
Learn how to increase sales quickly, effectively and easily through the use of marketing enablement services. Tim's series on choosing marketing enablement services on the Superior Business Solutions' Blog breaks down the different services, how they work, the benefits and more, enabling you to understand the value of each technology. Tim and the Superior team can even help craft a marketing enablement solution to fit your unique business. To learn more about the variety of marketing enablement strategy options available contact Superior today.