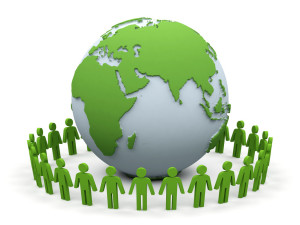 Five Easy Ways Employees Can Work Greener from Factory Direct Promos
There are so many ways your company can go green and there are so many benefits of making green choices the norm. You probably know about the obvious benefits, like reducing your carbon footprint and even saving money, but some green choices, such as going reusable whenever possible, can create a much more productive workplace and set the tone for your company's green culture.
Our CMO at our daughter brand, Factory Direct Promos, recently wrote a post about just this topic and I wanted to share her thoughts.
Invest in Reusable Kitchen Gear. Forgo disposable plates, cups and utensils for durable, reusable items. This may lead to running the dishwasher more frequently and reminding staff to clean up, but your company will generate significantly less trash.
Close the Recycling Loop. In order to make recycling easy you need to make sure recycling bins are available and clearly labeled. You can purchase bins or check with your municipality or a local recycling firm, sometimes they may have bins available for free. Try to purchase items made from recycled content whenever possible and recycle everything you can to reduce the amount of trash destined for the landfill.
Go Rechargeable. Batteries are such a necessary part of our lives today, and unfortunately they can be hazardous if dumped in a landfill. Invest in some rechargeable batteries. The cost is more upfront, but they will last longer, offering a good return on your investment. When your batteries no longer hold a charge make sure to recycle them appropriately.
Switch to a Permanent Coffee Filter. Paper coffee filters can be recycled or composted, but this seldom happens. Changing to a reusable coffee filter will eliminate the need for thousands of paper filters and will pay for itself in no time at all, while also reducing the amount of trash generated.
Market Your Brand with Custom Reusable Bag. Reusable products are green because they eliminate the need for disposable items, and they also make great marketing tools because they are designed to be used again and again. Make your custom bag even greener by choosing a bag made from recycled or sustainable materials.
Any green change you incorporate into your daily routines will certainly help the planet and help your company stick to your green goals. For more information on how your business can go green, please visit their site at http://factorydirectpromos.com .