How to Save Money and Secure Great Labels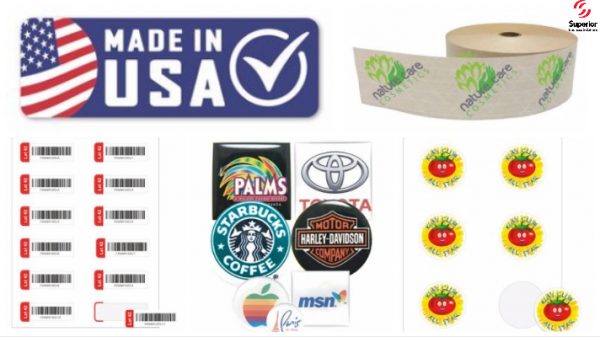 Labels may seem like a minor thing, but if your business has ever had the misfortune of dealing with poor quality labels, then you understand just how important labels can really be.
Quality labels can inform team members and customers about your products and help keep things moving and flowing in an efficient manner.
Tim English, the VP at our founding brand, Superior Business Solutions, recently explained how they can provide an affordable and easy label solution.
Find out what sets Superior Business Solutions apart and why you may want to consider working with them for all of your label needs.
What Makes a Good Label?
The premise behind labels is very simple: information is printed on the front and they can adhere to a surface.
Labels convey information, like cost, SKU numbers, branding, or anything else that may be relevant.
Quality labels will have several traits, including:
Ability to stick where it is placed and stay put
Durability to hold up against regular wear and tear while remaining legible
Dependable sourcing
Cost-effective
Essentially, labels need to be sticky and durable, but you also need to work with a trusted partner who can provide the labels you need when you need them. Labels that fall off are disappointing and ineffective, but not having the labels you need is equally disappointing and ineffective.
Cost is always a factor, because overpaying for a product, especially if the product fails and potentially incurs more expense to address the problem, is a waste of resources all around.
Finding a Superior Partner
You need to work with a proven custom label provider and Superior Business Solutions is that partner.
They have been in business for nearly 100 years and working with labels for a lot of that time. This means they understand what makes a high-quality label because they've been sourcing them for decades.
Superior consistently works with a trusted network of vendors, so they can easily match their customers with the right vendor for the job.
Ready Supply
You can always count on having the labels your business needs thanks to Superior Business Solutions' Corporate Kiosk. Ordering new labels is quick and easy, so your team members will have a steady supply of labels and can focus on what they need to do, instead of trying to source new labels.
This easy ordering method not only ensures your business will have the supplies you need to keep moving forward, but it also helps keep costs down and more predictable.
Get the Help You Need
A trusted partner will make sure you have quality labels readily available, but they will also help you address and even prevent problems. S
uperior Business Solutions holds ISO certification and has earned distinction in their industry for the quality work they do. That is what you can expect when you work with Superior for labels, or anything really.
Learn more about why you should stick with Superior Business Solutions for all of your label needs.