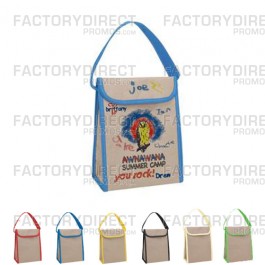 Looking for an Eco-Friendly School Fundraiser Idea?
The key to a great school fundraiser is finding an item that people want to use right? If you can make it eco-friendly and something that kids can personalize as well, it's going to be a really popular item. People want to support the school, especially in these times of school budget cuts across America, but give them something that they want, will love, and can use, your sales will skyrocket.
Reusable Lunch Bags Kids Can Personalize are Eco and Functional
All kids have a need for lunch bags and by making the switch to a reusable bag that eliminates the need for single-use bags, making the bags much more eco-friendly. These reusable lunch bags feature a comfortable handle and a flap with a hook-and-loop closure, so even if the lunch bag is tossed around in a backpack everything will stay securely in the bag.
All of Factory Direct Promos ' (FDP), reusable bags feature one color one location printing included, so you can brand the bag with your school's logo or mascot, but what really makes these reusable lunch bags unique is the kraft material that can be customized by the student's with crayons, markers or colored pencils. Not only are these reusable lunch bags handy to carry snacks and lunch to school, but they are also an art project and give the kids the opportunity to decorate the bag as they'd like and really make their bag their own.
Let Factory Direct Promos Create Your Next School Fundraiser Item
When working with FDP you can choose your eco-friendly school fundraiser item from their in stock selection which is ideal if you need your reusable bags right away and do not need a lot of bags, or consider working with their overseas factory if you need a high quantity or if you want to further customize the design of your reusable bag.
When ordering through the overseas factory, they typically are able to get you your bags in 60 – 90 days, but they are also able to create bags that fit your exact specifications and are exactly what you want while also securing an amazingly low price per bag.
If you have questions or are interested in making reusable lunch bags your next school fundraiser fill out the Quick Quote request form HERE and they can help make your next school fundraiser successful and eco-friendly. Good luck!
Meet Factory Direct Promos
If you found this post of interest to you then you might want to visit our Eco-Life brand called Factory Direct Promos. At Factory Direct Promos (FDP) we offer fully customizable, eco-friendly promotional products in quantities of 250 to the millions like reusable bags, reusable water bottles, and other eco-friendly items to promote your brand in a more sustainable way. And while you are on the FDP site, be sure to check out our Interactive Plastic Bag Ban Map that highlights the worldwide single –use bag ban movement. Are you ready to #goreusablenow with us?