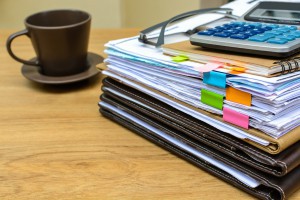 Every business, regardless of the type, has documents with delicate information. Counterfeiting and alteration or duplication of sensitive or restricted documents are issues that can cause complete devastation for any business, but these are also things that most people think will never happen to them. That's what everyone thinks – especially the people who are victims of these crimes. You need to take action and protect your business from harm in order to ensure you do not fall victim to these crimes.
What You Can Do To Protect Your Business
Our founding company, Superior Business Solutions, recently put out a white paper that identifies different risks and outlines a detailed plan of action regarding how to ensure your documents are secure. In a recent post Tim, the VP of Superior Business Solutions lays out why you need to protect against document security  risks.
The immediate fallout from such a disaster can be serious, but you also need to think long-term. If you allow yourself to be vulnerable to such a crime and something bad does happen this can cause credibility issues with your customer base, and long after you resolve the problem you may still be feeling the impact of this data breach; assuming you are able to maintain your business afterwards.
Preventing problems before they even become a problem is the best course of action. To learn how to protect your documents and your company, download the document security risk white paper from Superior Business Solutions. This paper is free, but more importantly it contains a lot of questions that will help you recognize areas within your company that could use shoring up.
Don't Wait – Download the White Paper Today
Security is a matter that should be taken very seriously and we want to help. If you have questions or concerns please get in touch with Tim English here. Don't hesitate because the sooner you look for ways to protect your company the sooner you will find a solution that fits your brand and will keep you (and your documents) safe!