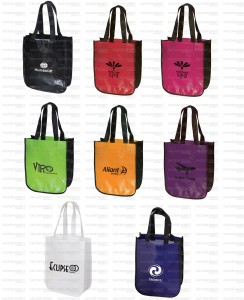 Help the Planet While Helping Your Brand
The primary objective to imprinting items with your branding message, is to increase the awareness of your company and the products or services you provide. When you promote your brand with custom recycled bags, you are helping your brand but you are also helping the planet. In a recent blog post on Factory Direct Promos, their CMO went into how you can close the loop and benefit your brand with custom recycled bags.
Recycled Materials Make a Statement
Utilizing recycled materials for your marketing items gives a new purpose to materials that would otherwise be trash and keeps those items out of the waste stream, preventing materials from becoming litter. This is obviously good for the environment because it also prevents new resources from being used to create more materials.
By constructing reusable bags from recycled plastic, that creates a need for the recycled plastic and ensures new plastic is not manufactured. Then, the resources typically used to create plastic can be used for something else. Reusable grocery bags also reduce the need for single-use plastic bags and reduce the negative environmental impact of disposable bags.
Reusable Bags Get the Word Out About Your Brand
Reusable bags are a smart marketing tool because they are something everyone has a need for and is likely to use. When your customers carry your custom branded reusable bag, they will become more familiar with your marketing message and they will also expose everyone they encounter to your branding.
Creating a custom reusable bag puts you in control so you can select the materials, colors and features of the bag to really make it stand out and function perfectly for your demographic. The more useful your custom bag is the more apt your customers will be to use it, and the more your customers carry your branded bag the more exposure they'll give your brand. Consider the appearance of your reusable bag and modify the design to include features your customers will like, since this will translate into increased brand awareness and deliver a great return on your investment.
Take Action to Help The Planet and Your Brand
Giving a new purpose to recycled materials and giving your customers a convenient item they can use and appreciate will get your branding info in front of customers and potential customers. Using recycled materials for your promotional items also shows your customers that your brand takes your environmental impact seriously. You do not just talk about going green, but you take action to help the planet and minimize your carbon footprint.
Head here to learn more about benefiting the planet and your brand with custom recycled bags or go here to get in touch with Factory Direct Promos and request a quote or learn more about the design process and start promoting your brand with custom reusable bags today.