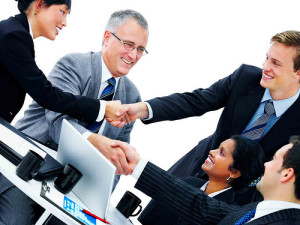 Marketing is about relationships. Focus on your customers as people, not money because they'll know the difference. Below are five tips that we felt were particularly helpful for increasing sales through relational and incentive strategies. These are strategies that work.
5 Steps To Increase Sales
Utilize social media as a relational tool – Social media is a two way street. Listen to what your fans and followers are talking about and engage with them. Try using the rule of thirds: 1/3 of the time talk about your products and services, 1/3 of the time share other pertinent content, and the rest of the time be yourself and add a human element to your brand. That could be humor, fun facts, you name it!
Avoid relying on your sales staff to retain and grow longterm relationships – As a business you need referrals and repeat business. Instead of relying only on your sales staff to do this, work with a company that can help you establish specific marketing technologies that are proven to increase sales.
Offer gift cards – It used to be that only big businesses could offer a loyalty program or gift cards, but now even small businesses can take advantage of the gift card magic. Did you know that 40% of consumers list gift cards as their preferred gift to receive, and in 70% of purchases where a gift card is used, consumers spend more than the card value?
Your customers don't want to be fixed – So much of the sales process in the past has been focused around "fixing" your prospect's problems. This starts from the assumption that they are "broken" and need fixing in the first place. Instead, why not focus on showing them how to continue their successes or streamline their processes to make them even bigger winners?
Differentiate yourself from your competitors – Understanding the distinct difference between you and your competitors helps you to better relay that message to your existing customers and your prospects. To come to these conclusions, try to think about why you do what you do as a more important factor than what you do. This can be a transformational marketing angle.
Ok, now begin to differentiate yourself as a brand by cultivating longterm relationships. The best strategy for increasing sales is one that includes your customers and makes them feel a part of something. Learn what makes your perfect audience click through high funnel strategies like social media and be there to walk them through the buying cycle as they learn about your business. It's not rocket science. It's harder. Relationships are as unpredictable as the people who have them, and it takes every aspect of your company to increase sales and create brand loyalty.
(image courtesy of openviewpartners)